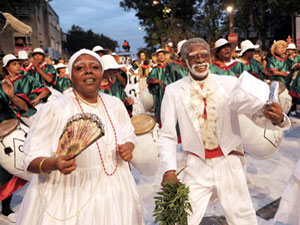 When we think of nations that contain members of the African diaspora, we think of the United States, Jamaica, Haiti, but we seldom think of the South American nation of Uruguay, where many, including me, thought of it as being a white nation.
Yet Uruguay, like the rest of the nations in the Western world, enslaved Africans who eventually ended up playing important roles in Uruguay's life and culture, which includes the second-largest black press in Latin America

,

a black political party,

and volumes of other social and civic groups.

Today, according to the Bradt Uruguay Travel Guide, many of the black Uruguayans have assimilated into the rest of society.
Black Uruguayans contributed greatly to Uruguay's economy, society, and culture primarily

through slave labor

.

In addition, black Uruguayans were the soldiers who fought and died for their country's independence from Spanish rule

,

and later defending against aggressive foreign forces wanting to invade the country during the early parts of the 19th century. The music, literature, and art of black Uruguayans has been enriching, enlightening, and entertaining since colonial times, and

loved by all citizens, regardless of color.
When slavery in Uruguay ended, Barrio Sur, a community in Montevideo, the nation's capital, became a predominantly black community where a revival took place of
some of the rituals of their African heritage, which eventually evolved into what is known as
Candombé
.
On the 6th of January they held a special ritual parade called "Llamada de Los Reyes" giving honor to the eldest members of the community.
By the year 1800, the black population of Uruguay was estimated at 25%, and candombe's origins had evolved from the early19th century being perceived as a threat to upper class whites who sought to ban it.
The roots of Candombé can be traced to the Bantu people of Africa. As time passed, blacks gave up these rituals to focus on assimilating with the rest of Uruguay's population. However in more recent times, these rituals have, once again, been revived and became an integral part of Uruguayan culture. Presently

,

Barrio Sur is still connected with Uruguay's black culture and Candombe is regurarly played on weekends.
The roots of Candombé can be traced to the Bantu people of Africa
The development of Uruguay's black journalism was partly the result of the country's economic and educational achievements during the 17th and 18th centuries.
Because of meat and wool exports, Uruguay became one of South America's most successful national economies, along with
having the highest rates of literacy and newspaper readership.
As in other Latin American countries, Uruguay had its share of black civic and political uprisings, one being an organization called Mundo Afro (Black World). In 1980, a Uruguayan writer reported that in the downtown commercial districts of Montevideo, there are less than 10 black employees.
Mundo Afro was able to successfully get the Uruguayan government to gather racial data, which a
s a result of these facts, and other political pressures, the Uruguayan government committed itself to addressing racial discrimination and inequality.
In 2003 the municipal government of Montevideo created an advisory unit for Afro-Descendent Rights; and then President Tabaré Vázquez (2005-10) appointed a presidential advisor for Afro-Uruguayan affairs and created programs for Afro-Uruguayan women and Afro-Uruguayan youth in the Ministry of Social Development.