¡Pinche mayate!
A Name They Call Black People
When I saw the film

American Me

, that was my first time hearing the expression mayate. I was not offended but was extremely curious about the word's origin. All racial slurs have original meanings. I asked a Mexican American friend, and her mitigating response was that it is just a name they call black people.
However, one summer I was teaching labor market orientation to high school students in Berkeley, California, and approached a group of Mexican-American students with whom I had a fairly decent rapport. I asked them what is a

mayate

? Obviously containing their laughter and not wanting to hurt my feelings, they became very tight-lipped. What was even more hilarious was that I was pronouncing mayate wrong by putting the accent on the wrong syllable.
Statue of Gaspar Yanga outside of the Mexican town named in his honor who led black runaway slaves in establishing a free Black town by defeating the Spanish over 200 years before Mexico won her independence.
The youngest member of the group repeated the correct pronunciation and told me that it was a little bug. One of the girls in the group shouted, ¡Cállate! (shut-up). In defiance, he told me that a mayate is a

little

black

bug

. Now it was my turn to laugh as my curiosity was finally satisfied. Welcome to the United States of America where almost every ethnic group, including Mexican-Americans, has pejorative terms attached.
Vicente Guerrero, son of a black woman led Mexico to her independence from Spain in 1810 and became Mexico's second president in 1829. Mexico's state of Guerrero, where the resort city of Acapulco is located, was named in his honor.
Every time I hear that term

mayate

, it is always used in the context of conflict. In the films

American Me

and

Blood In and Blood Out

,

mayate

was primarily used towards a rival gang known as The Black Guerrilla Family.
One day, I was passing by a group of Latino construction workers and overheard one venting his frustration on how he felt about "

that mayate

." When he saw me looking at him, he immediately stopped talking wondering if I understood. I simply gave him a humored smile and a wink and continued to cross the street at the green light.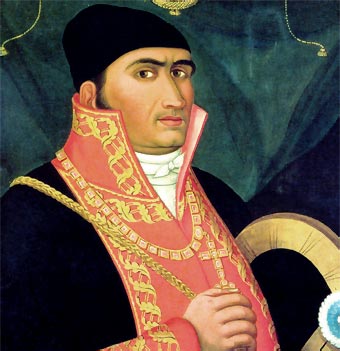 José María Morelos y Pavón, son of a freed African slave, was a revolutionary war hero. Mexico's state of Morelos was named in his honor.
Because of my level of education,

mayate

is not something I take personally; it's a joke, actually. It's a joke because even Mexico itself has an African history and presence, particularly in states of Vera Cruz, Oaxaca, and Guerrero, which today still have black villages.
Mayates, excuse me, Black people, played major roles in Mexico's independence from Spain, including pure Africans like Juan del Carmen, Juan Bautista, and Francisco Gomez. In fact, according to research done by Jameelah Muhammad that was published in the book, Afro Latino--

No Longer Invisible

by Minority Rights Press, Africans made important contributions to Mexican folk tales, religion, medicinal practices, cooking styles, and most notably, music and dance.